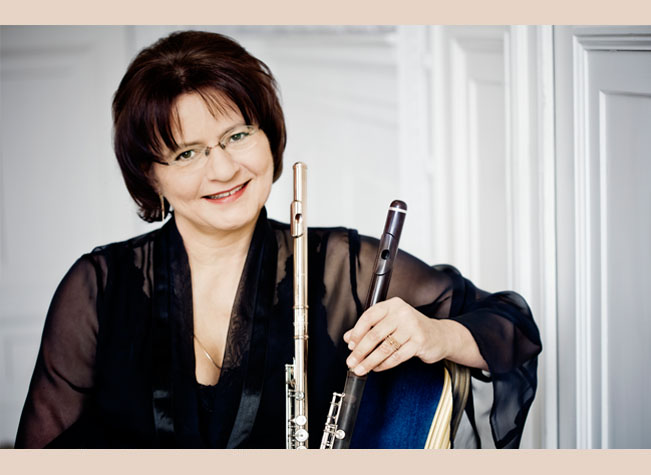 Imme-Jeanne Klett
Imme-Jeanne Klett comes from Hamburg and studied at the Hochschule für Musik & Theater Hamburg with Prof. Jean-Claude Gérard and Prof. Ingrid Koch-Dörnbrak. After taking her final examination she worked successfully as a soloist with various orchestras and the Deutsche Kammerakademie Neuss, the Hamburg Philharmonic Chamber Orchestra, Hamburg Camerata, Elbipolis Barockorchester Hamburg, Hamburg Ratsmusik, Vilnius String Camerata and many more, and performed as a chamber musician with various ensembles in Germany and abroad, with regular concert trips to the US and throughout Europe.
Imme-Jeanne Klett took up an invitation as soloist at the International Flute Festival and has performed frequently as a soloist and chamber musician at the Schleswig-Holstein Music Festival, the Mecklenburg-Vorpommern Music Festival, Lower Saxony Musik Festival, Festival EuroKlassik, the Kultursommer Hohenlohe, Festival Arabesques Hamburg, China-Time Hamburg and Berlin, the Corveyer Musikwochen, the Mecklenburg-Vorpommern Music Summer and the Wismar Mozart Festival, and also in performances combining music and speech, in cooperation with acclaimed actors such as Christian Brückner, Maria Hartmann, Claus Bantzer, Christiane Hörbiger and Clemens von Ramin.
In addition to the standard flute repertoire of all periods, Imme-Jeanne Klett has a special interest in rarely played literature for flute solo and for the flute in unusual chamber music combinations.
In 1995 she founded Ensemble Obligat Hamburg (wind, strings, harp, piano and harpsichord), which is dedicated to presenting chamber music of all periods in a wide range of sounds and instrumental combinations. The Ensemble has given guest performances with exquisite programmes and full chamber music formation at prestigious concert series and acclaimed international festivals. Since 2005 it has been the ensemble in residence at OBLIGAT!, the premium chamber music festival in Hamburg (formerly "Summer Serenade").
Imme-Jeanne Klett is the Artistic Director of OBLIGAT!, Festival of Chamber Music in Hamburg, with venues at the White Room of Jenisch House, the Galionsfigurensaal of Altona Museum and the Inner Courtyard of the Museum of Hamburg History.
She has made CDs with Dabringhaus und Grimm Detmold, Genuin Leipzig and the C2/ES-Dur label Hamburg.
Her radio credits include many recordings for Deutschlandradio Kultur and NDR, Hessischer Rundfunk, Radio Bremen, and broadcasts on BR, RBB, WDR, SWR, Radio France, Radio Finland, Radio New Zealand, and many more.
Imme-Jeanne Klett is Professor of Flute at the Hochschule für Musik und Theater in Hamburg and teaches flute and chamber music courses.
Her orchestral engagements included the 1998-99 season with the Deutsche Kammerphilharmonie Bremen, and since 1999 she has been principal flautist with Hamburg Camerata.